I loosely follow the Hubbard's Cupboard 2s curriculum with Logan. This month we are doing fall activities. One of the suggestions was to create leaves of different colors, place them on the floor, throw a beanbag and name the color of the leaf. Logan had no real interest in this game. I played for about 5 minutes just trying to model how much fun it could be. After no more than 5 minutes I, too, quit. (I mean, I DO know my colors...)
Then I saw this post and had an "a-ha moment". The next day we were outside and I grabbed the chalk and drew leaves of different colors. Then I would say a color and Logan would spray water on the colored leaf.
He loves the spray bottle. He usually uses it to
clean
supersoak the house.
It's amazing how a new activity can become engaging when we begin with a prior activity that interests the child. Now, if only I can remember to do that every time we play!!
I'm linking up to Childhood 101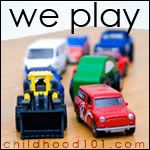 And On Friday I'll link this up to Play Academy at Nurturestore
Visit for more play based fun and learning!