So, I really, really like winning giveaways. In fact, I won a giveaway this week. It was from
Living Montessori Now
and I won 3 kits of Montessori reading materials. I know, you're jealous!! It pretty much made my whole week (and let me tell you, it was a tough week!) I really can't wait to dive into the materials and share with you all that I am learning. If you want general information on incorporating Montessori activities into your play/learning time, check out Living Montessori Now. You'll find lots of great activities and tips.
Today I was gearing up for my normal Friday blog hops. I "meet" so many great people this way. While stopping by one of my favorite blog hops, Smart and Trendy Moms, I noticed they already had info about their Christmas giveaways. It looks like they are going to have some good ones. If you go there now, you can get bonus entries for every giveaway that is coming up which will totally increase your chances of winning. Here's a link: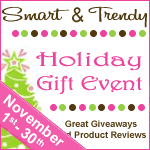 If you are stopping by my blog for the first time, I'm not always this random. Have a look around and if you like what you see, stay and follow! Just leave me a comment so I can come follow you back! Welcome to Ready. Set. Read!