This week on Ready.Set.Read! we are exploring interactive books. Yesterday, I shared an adorable and fun interactive book called, Roly-Poly Egg in this
post
. Today, I want to share an interactive book that is unlike any other book I've experienced.
Kids today (my preschooler included) are constantly interacting with technology. Young kids are playing computer games, using apps on their parent's phones, and reading ebooks. These kids love to get a reaction from the app or game they are playing. Generally, a print book doesn't give a child a reaction. Until now...
Press Here
by Herve Tullet is an interactive picture book that resonates with the interests of kids today. The book begins with a narrator instructing the reader to "press here". A yellow dot graces the first page. The child presses the dot and when he turns the next page...a second yellow dot appears. The narrator keeps instructing the reader. Rub the dot and turn the page, the dot changes color. The reader can even "turn off the lights" by pressing all the yellow dots on a given page. This book is a must see! Find out what happens as you tilt, blow on, and shake the book!
Guess what? You can see a mini-version of this book on Amazon right now! I found this great
pdf
for a free downloadable Press Here mini-book. There are also great activities to accompany the book-so go check it out. The mini book would make this book- which is great for sharing 1 on 1- a great classroom activity. There are also tips in the pdf for using this book as a read aloud with a large group!
This book bring so much fun play to our house. Logan follows the directions so intensely and seriously, yet when he sees the "results" he just dies laughing! When we finish reading it, Logan quotes the end of the book, "Want to do it all over again?" And I can't help but answer, "Yes!"
I'm linking up our book play here: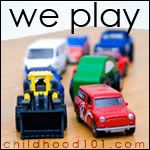 This book is a part of our personal collection. I was not compensated for this review. As an Amazon Associate, I may receive a small fee if someone clicks on the title and purchases the book.