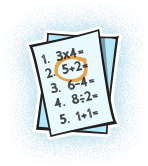 Summer can be a difficult time to keep kids motivated and keep kids learning. Parents can spend a lot of money buying programs and curriculum, hiring tutors, or paying for summer camp experiences. Summer can be a fun time to explore the outdoors and enjoy hands on
summer learning activities
. Summer can also be a great time to spend reading
great books
to keep little minds sharp. Another fun way to keep kids engaged over the summer, is with worksheets and coloring sheets. Coloring and writing can keep finger muscles strong for writing and learning during the school year. Some kids really enjoy playing school or completing coloring sheets. It can get expensive to buy workbooks and activity packs. I've found an online source with fun coloring pages and worksheets for kids to use over the summer, and it's free!
Free Printable Online
offers free printable worksheets, cards, lesson plans, activities, and crafts that your child may enjoy during the summer months.
There are many ways to use Free Printable Online in your summer learning. Children can practice real life writing skills by creating and sending their own printable cards using the free printable card maker. There are free printable crafts like printable origami. Learning a new skill, like folding origami, can be a fun summer project. Printable games, like word searches, can be taken along on family road trips. Children can review skills taught during the school year with
free printable worksheets
.
Free Printable Online offers a lot of free options for summer learning. The worksheets have very simple graphics and simple concepts, but they could be a fun and easy way to keep kids learning all summer.